{"logoWhite":{"image":"/media/1012/logo.svg","title":"Pressalit Logo in white","alternativeText":"Pressalit Logo in white","focalPoint":{"left":0.5,"top":0.5},"url":"http://admin.pressalit.com/media/1012/logo.svg","focalPoints":"0.5,0.5"},"logoBlack":{"image":"/media/1013/pressalit_logo_black.svg","title":"Pressalit Logo in black","alternativeText":"Pressalit Logo in black","focalPoint":{"left":0.5,"top":0.5},"url":"http://admin.pressalit.com/media/1013/pressalit_logo_black.svg","focalPoints":"0.5,0.5"},"findDealer":{"id":"2690","name":"Find dealer","url":"http://pressalit.com/en-uk/find-dealer/","target":null},"isTransparent":false,"mainNavigation":[{"url":"http://pressalit.com/en-uk/toilet-seats/","name":"Toilet seats","children":[{"url":"http://pressalit.com/en-uk/toilet-seats/","name":"Products","children":[]},{"url":"http://pressalit.com/en-uk/toilet-seats/inspiration-and-guides/","name":"Inspiration and guides","children":[{"url":"http://pressalit.com/en-uk/toilet-seats/inspiration-and-guides/design/","name":"Design","children":[]},{"url":"http://pressalit.com/en-uk/toilet-seats/inspiration-and-guides/trends/","name":"Trends","children":[]},{"url":"http://pressalit.com/en-uk/toilet-seats/inspiration-and-guides/toilet-seat-features/","name":"Toilet seat features","children":[]},{"url":"http://pressalit.com/en-uk/toilet-seats/inspiration-and-guides/brochures/","name":"Brochures","children":[]},{"url":"http://pressalit.com/en-uk/references/","name":"References","children":[]}]},{"url":"http://pressalit.com/en-uk/toilet-seats/quality/","name":"Quality","children":[]},{"url":"http://pressalit.com/en-uk/toilet-seats/oem/","name":"OEM","children":[]},{"url":"http://pressalit.com/en-uk/articles-toilet-seats/","name":"Articles","children":[]}]},{"url":"http://pressalit.com/en-uk/bathroom-accessories/","name":"Bathroom accessories","children":[]},{"url":"http://pressalit.com/en-uk/accessible-bathrooms/","name":"Accessible bathrooms","children":[{"url":"http://pressalit.com/en-uk/accessible-bathrooms/products/","name":"Products","children":[]},{"url":"http://pressalit.com/en-uk/accessible-bathrooms/product-suggestions/","name":"Product suggestions","children":[]},{"url":"http://pressalit.com/en-uk/accessible-bathrooms/advice-and-inspiration/","name":"Advice and inspiration","children":[{"url":"http://pressalit.com/en-uk/accessible-bathrooms/advice-and-inspiration/designing-your-bathroom/","name":"Designing your bathroom","children":[]},{"url":"http://pressalit.com/en-uk/accessible-bathrooms/advice-and-inspiration/accessibility-for-everyone/","name":"Accessibility for everyone","children":[]},{"url":"http://pressalit.com/en-uk/accessible-bathrooms/advice-and-inspiration/a-sound-investment/","name":"A sound investment","children":[]},{"url":"http://pressalit.com/en-uk/accessible-bathrooms/advice-and-inspiration/focus-on-hygiene/","name":"Focus on hygiene","children":[]},{"url":"http://pressalit.com/en-uk/accessible-bathrooms/advice-and-inspiration/laws-and-regulations/","name":"Laws and regulations","children":[]},{"url":"http://pressalit.com/en-uk/accessible-bathrooms/advice-and-inspiration/brochures/","name":"Brochures","children":[]},{"url":"http://pressalit.com/en-uk/references/","name":"References","children":[]}]},{"url":"http://pressalit.com/en-uk/accessible-bathrooms/quality/","name":"Quality","children":[]},{"url":"http://pressalit.com/en-uk/artikler-hjaelpemidler/","name":"Articles","children":[]}]},{"url":"http://pressalit.com/en-uk/shower-and-changing-tables/","name":"Shower and changing tables","children":[{"url":"http://pressalit.com/en-uk/shower-and-changing-tables/","name":"Products","children":[]},{"url":"http://pressalit.com/en-uk/shower-and-changing-tables/advice-and-inspiration/","name":"Advice and inspiration","children":[{"url":"http://pressalit.com/en-uk/shower-and-changing-tables/advice-and-inspiration/changing-places/","name":"Changing places","children":[]},{"url":"Upd: dette dokument er udgiver, men er ikke i cachen (intern fejl)","name":"Accessibility for everyone","children":[]},{"url":"http://pressalit.com/en-uk/shower-and-changing-tables/advice-and-inspiration/brochures/","name":"Brochures","children":[]},{"url":"http://pressalit.com/en-uk/references/","name":"References","children":[]}]},{"url":"http://pressalit.com/en-uk/accessible-bathrooms/quality/","name":"Quality","children":[]}]},{"url":"http://pressalit.com/en-uk/daycare-changing-tables/","name":"Daycare changing tables","children":[{"url":"http://pressalit.com/en-uk/daycare-changing-tables/","name":"Products","children":[]},{"url":"http://pressalit.com/en-uk/daycare-changing-tables/advice-and-inspiration/","name":"Advice and inspiration","children":[{"url":null,"name":"Accessibility for everyone","children":[]},{"url":"http://pressalit.com/en-uk/daycare-changing-tables/advice-and-inspiration/brochures/","name":"Brochures","children":[]}]},{"url":"http://pressalit.com/en-uk/accessible-bathrooms/quality/","name":"Quality","children":[]}]},{"url":"http://pressalit.com/en-uk/height-adjustable-kitchens/","name":"Height adjustable kitchens","children":[{"url":"http://pressalit.com/en-uk/height-adjustable-kitchens/","name":"Products","children":[]},{"url":"http://pressalit.com/en-uk/height-adjustable-kitchens/advice-and-inspiration/","name":"Advice and inspiration","children":[{"url":"Upd: dette dokument er udgiver, men er ikke i cachen (intern fejl)","name":"Accessibility for everyone","children":[]},{"url":"http://pressalit.com/en-uk/height-adjustable-kitchens/advice-and-inspiration/brochures/","name":"Brochures","children":[]},{"url":"http://pressalit.com/en-uk/references/","name":"References","children":[]}]},{"url":"http://pressalit.com/en-uk/accessible-bathrooms/quality/","name":"Quality","children":[]}]},{"url":"http://pressalit.com/en-uk/about-pressalit/","name":"About Pressalit","children":[{"url":"http://pressalit.com/en-uk/about-pressalit/jobs-and-careers/","name":"Jobs and careers","children":[{"url":"https://pressalit.easycruit.com/?iso=gb","name":"Vacancies","children":[]},{"url":"http://pressalit.com/en-uk/about-pressalit/jobs-and-careers/students/","name":"Students","children":[]},{"url":"http://pressalit.com/en-uk/about-pressalit/jobs-and-careers/trainees-and-apprentices/","name":"Trainees and apprentices","children":[]}]},{"url":"http://pressalit.com/en-uk/about-pressalit/csr/","name":"CSR","children":[{"url":"http://pressalit.com/en-uk/about-pressalit/csr/uns-global-goals/","name":"UN's Global Goals","children":[]},{"url":"http://pressalit.com/en-uk/about-pressalit/csr/sponsorships-and-partnerships/","name":"Sponsorships and partnerships","children":[{"url":"http://pressalit.com/en-uk/about-pressalit/csr/sponsorships-and-partnerships/partnership-with-unicef/","name":"Partnership with UNICEF","children":[]},{"url":"http://pressalit.com/en-uk/about-pressalit/csr/sponsorships-and-partnerships/partnership-with-parasport-danmark/","name":"Partnership with Parasport Danmark","children":[]},{"url":"http://pressalit.com/en-uk/about-pressalit/csr/sponsorships-and-partnerships/sponsorships-in-our-local-area/","name":"Sponsorships in our local area","children":[]}]},{"url":"http://pressalit.com/en-uk/about-pressalit/csr/ethics/","name":"Ethics","children":[]},{"url":"http://pressalit.com/en-uk/about-pressalit/csr/sustainability/","name":"Sustainability","children":[]}]},{"url":"http://pressalit.com/en-uk/about-pressalit/history/","name":"History","children":[]},{"url":"http://pressalit.com/en-uk/about-pressalit/values/","name":"Values","children":[]},{"url":"http://pressalit.com/en-uk/contact-pressalit/","name":"Contact","children":[]},{"url":"http://pressalit.com/en-uk/news/","name":"News","children":[]}]}],"secondNavigation":[{"url":"http://pressalit.com/en-uk/find-dealer/","name":"Find dealer","children":null},{"url":"http://pressalit.com/en-uk/contact-pressalit/","name":"Contact Pressalit","children":null},{"url":"http://pressalit.com/en-uk/help-center/","name":"Help center","children":null},{"url":"http://pressalit.com/en-uk/references/","name":"References","children":null},{"url":"http://pressalit.com/en-uk/news/","name":"News","children":null}],"quickLinks":[{"id":"2201","name":"Help center","url":"http://pressalit.com/da-dk/help-center/","target":null}],"searchUrl":"http://pressalit.com/en-uk/search/","wishlistUrl":"http://pressalit.com/en-uk/favorite-list/","activeFrom":"0001-01-01T00:00:00","activeTo":"9999-12-31T23:59:59.9999999"}
Pressalit Magnum 104
Product nr: 104000-B33999 · EAN: 5708590024080
Standard toilet seat incl. fixed hinge in stainless steel
Perfect fit Classic design High capacity load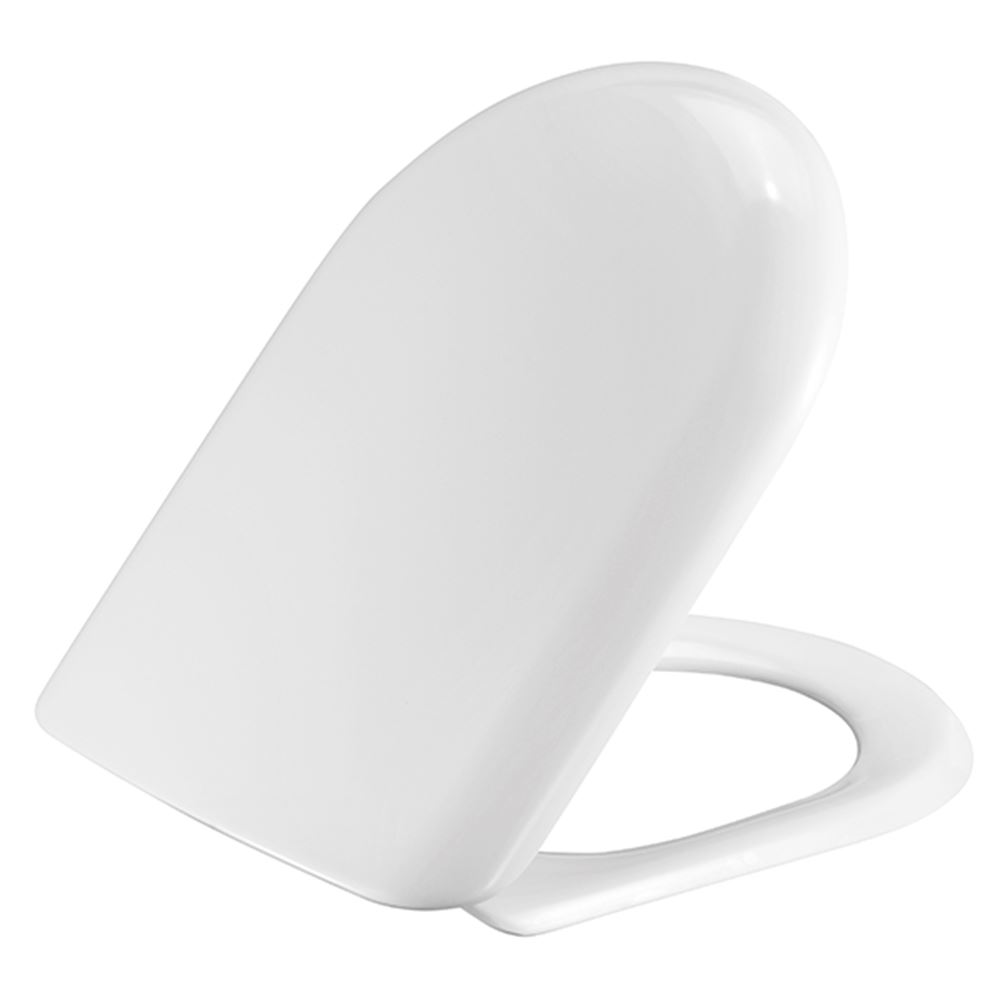 Highlights

Specifications
Product codes
EAN 5708590024080
ETIM EC011196
UNSPSC 30181603
Item number
104000-B33999
Product group
Toilet seats
Product
Pressalit Magnum 104
Product description
Pressalit Magnum is developed especially for Villeroy & Boch's sanitary programme of the same name.
Description
PRESSALIT toilet seat with cover, model "Magnum", art. no. 104 made of colour ingrained duroplast with B33 fixed hinge of stainless steel.
- centre distance: 155 mm
- load - ring seat 240 kg
- 10 year guarantee
ProductPasSeatFormDesc
D-shaped
Materials
TOILET SEAT:
The material is colour ingrained duroplast (UF A 10 = urea formaldehyde) that contains no environmentally hazardous substances. UF plastic comprises 67% urea formaldehyde resin, 28% cellulose, as well as 5% minerals, pigments, lubricants and moisture content. The raw material from the supplier contains up to 0.03% free formaldehyde and even less following curing.

BUFFERS:
EVA (copolymer made of ethylene and vinyl acetate).

DAMPER KIT (only relevant for toilet seats with soft close):
Hydraulic damper with stainless steel damper casing and thermoplastic parts.

MOUNT/HINGES:
Stainless steel model W. no. 1.4301/M and thermoplastic.
Maximum load
Load - ring seat 240 kg
Dimensioned drawing, mm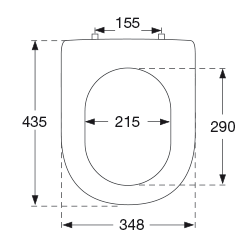 Hinge drawing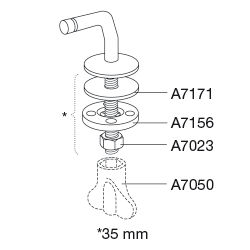 Carton size
488x388x70 mm
Colli size
500x400x368 mm
Cleaning
Use a mild soap solution to clean the seat. Please take care that the seat and hinges are not left damp. Dry off any residual water or cleaning agent with a soft cloth. Avoid contact of the seat and hinges with abrasive, corrosive or chlorine-based cleaners, as these may cause damage or lead to flash rust. Therefore, when cleaning the bowl, make sure that the seat and cover are kept in an upright position until all cleaning agent has been flushed away.
Warranty
Pressalit provides a 10-year product warranty on your toilet seat. Pressalit will repair or exchange the toilet seat for the same or another useable model, at Pressalit's discretion, in the event of a material or manufacturing defect in your toilet seat appearing within 10 years of the date of purchase with normal use. This product warranty is conditional upon proof of purchase of the toilet seat.
Subject to changes in the product range, technical changes and printing errors.
Sparepart drawing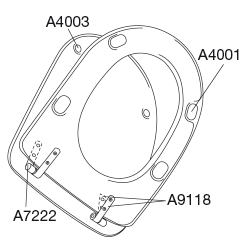 Product fits
Duravit AG
Architec
Architec
Laconda
Duraplus Cascade (old)

Keramag AG (Geberit)
Renova Nr. 1 54 cm
Renova Nr. 1 54 cm
Renova Nr. 1 Plan
Renova Nr. 1 Plan
Renova Nr. 1 Comprimo 52 cm
Renova Nr. 1 Plus Comprimo 54 cm
Renova Nr. 1 Plus Comprimo 52 cm
Renova Nr. 1 56 cm
Renova Nr. 1
Renova Nr. 1 56 cm
Romantik 56cm
Renova Nr. 1
Renova Nr. 1
Renova Nr. 1 Plus
Romantik
Romantik
Romantik
Romantik
Renova Nr. 1
Renova Nr. 1
Renova Nr. 1
Renova Nr. 1
Renova Nr. 1
Virto
Virto
Virto
Virto
Virto
Renova Nr. 1

Laufen AG
Moderna 25
Moderna UP
Moderna
Object
Object
Object
Suprema
Swing
Swing
Swing
Swing
Laufen Pro Compact

Sphinx Sanitair BV (Geberit)
Corfu 34
Corfu 34
Palma Nova 25
Sphinx 340/Linate 34
Sphinx 340/Linate
Milano 34
Milano 34 N
Europa 37A
Firenze 25N
Firenze 25
Corfu 34 N
Milano 34
Palma Bianca 25 N
Palma Bianca 34
Palma Bianca 25
Palma Bianca 26
Lotus
Lotus 34
Sphinx 280

Villeroy & Boch
Century
Century
Grangracia
O.novo (Oval)
O.novo (Oval)
O.novo (Oval)

LAUFEN CZ s. r. o.
Lyra Plus

PURA Bathrooms
Pura Ivo Compact